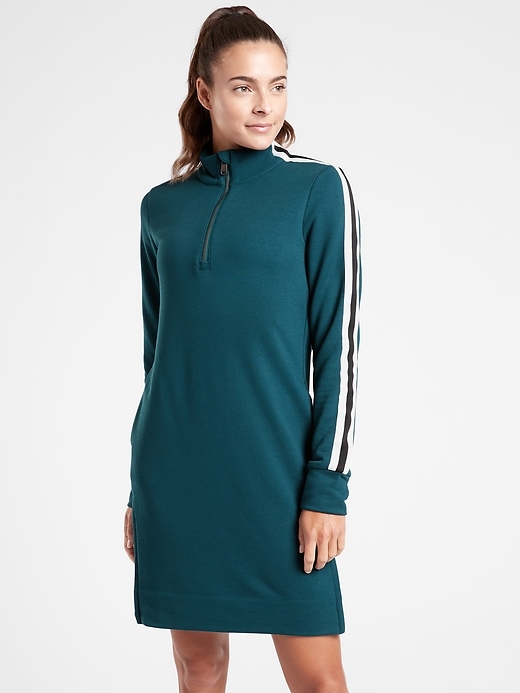 Getting sick of working from home in the same pair of high school-era sweatpants day after day during the pandemic? …Yeah, that's understandable. But, what if I told you that you could look cute while staying comfortable when working from home?
There's a reason the phrase "dress for success" is so prevalent. Studies show that we perform better when we're dressed for the part. So, while there's definitely not a need to go full-out power heels during our current work-from-home situation, a little bit of effort is still crucial. The trick to getting dressed while working from home is finding the happy medium between full-out-pantsuit and third-day-in-a-row gym shorts.
If you have a Zoom meeting scheduled, keep it professional from the waist up. Read more about that here. But, anything that's not on camera? Go for comfort!
One of the easiest ways to elevate your daily sweatpants-and-t-shirt look is by upgrading your old sweats to stylish joggers. I love this pair, this pair and this pair.
You can also never go wrong with leggings, like these or these. Just pick a solid neutral color — darker shades are more flattering! — and pair them with a tunic-style blouse or an oversized knit sweater if you tend to crank up the air conditioning in your home office.
You can also rock palazzo pants or wide-legged pants. Just tuck a structured oxford shirt into them, or wear a pair with a tank top and cardigan.
And, if you really love traditional sweatpants? Don't feel guilty about wearing them — off-camera, of course. Just trade out the faded ripped ones for a fresh cute pair, like this pair or this pair.
And, don't feel guilty about ditching your uncomfortable structured bra. Quarantine should be an underwire-free environment! Instead of wearing a traditional office-friendly bra, switch to a cute sports bra (like this one or this one) or a comfy bralette (like this one or this one). Just make sure that any decorative stitching or lace isn't visible through your top.
Thanks to the current athleisure trend, looking cute while remaining comfortable has never been easier. My Athleta orders have definitely been up this year!
What have you been wearing while working from home during the pandemic? Let me know in the comments!
Many of these items are shared with affiliate links. I may get a commission if you purchase through the link. Please know I only recommend products that I love!